by Rick Burnes
Hubspot's Inbound Internet Marketing Blog
Dave's Comments (Digital Marketing Tutorial Blog): What an insightful and helpful article! Rick Burnes does a masterful job of integrating the next round of Internet Marketing initiatives and showing how they can form the basis of a comprehensive online "Inbound Marketing" strategy. The comparison of Inbound Marketing tools to "Outbound Marketing" tools is spot-on. An excerpt with one of the charts from this blog entry is given below. I suggest you STOP whatever you're doing, take 10 minutes and read the entire article (link below). You will not be disappointed!
"What Is Inbound Marketing?"
"Inbound Marketing is marketing focused on getting found by customers.
In traditional marketing (outbound marketing) companies focus on finding customers. They use techniques that are poorly targeted and that interrupt people. They use cold-calling, print advertising, T.V. advertising, junk mail, spam and trade shows.
Technology is making these techniques less effective and more expensive. Caller ID blocks cold calls, TiVo makes T.V. advertising less effective, spam filters block mass emails and tools like RSS are making print and display advertising less effective. It's still possible to get a message out via these channels, but it costs more.
Inbound Marketers flip outbound marketing on its head.
Instead of interrupting people with television ads, they create videos that potential customers want to see. Instead of buying display ads in print publications, they create their own blog that people subscribe to and look forward to reading. Instead of cold calling, they create useful content and tools so that people call them looking for more information.
Instead of driving their message into a crowd over and over again like a sledgehammer, they attract highly qualified customers to their business like a magnet."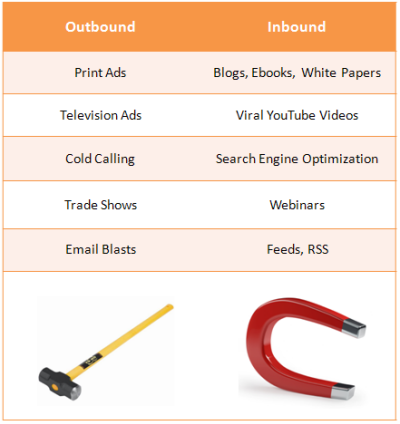 Read the entire article by clicking on this link:
"Inbound marketing & the Next Phase of Marketing on the Web"