Piggyback Publishing Invents a Video Model
By Kris Oser
Director of Strategic Communications
eMarketer
Dave's Comments (Digital Marketing Tutorial Blog): Read this article! It will take you less than 5 minutes to get a bird's eye view of how one really smart Internet Marketer has taken the been-around-for-years how-to concept, combined it with original online video content, and is going after a YouTube market segment you'd never guess was there! Great stuff!
"Dean Harris was the chief marketing officer of Internet phone provider Vonage between 2002 and 2006, when the company was grabbing attention for having the largest online marketing budget in the US and its "People Do Stupid Things" TV spots. In 2005, Mr. Harris was Brandweek's Marketer of the Year.
Last year, Mr. Harris stepped into the role of CEO of Piggyback Publishing. In April, the firm began distributing three-to-six-minute segments on YouTube and lined up a sponsor. Piggyback has also signed a deal to distribute content on NBC's new Web portal NBC.com. Mr. Harris talks about the content and media deals he is hammering out in the emerging media channel of online video."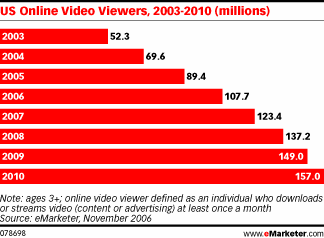 Read the entire article on eMarketer.com.