By eMarketer
May 1, 2007
Dave's Comments (Digital Marketing Tutorial Blog): Web 2.0 – it's all the buzz these days. Now eMarketer reports that the acceptance of "The Collaborative Web" is penetrating the Fortune 500/Global 1000 corporate world at a surprising rate, although most applications are "inward facing" at this time. Still, every online marketer needs to keep their eyes on the Web 2.0 phenomenom!
"Tiny steps toward more public communication. The buzz around collaborative Web 2.0 technologies keeps going, and it is easy to think that every firm now has a blog, a wiki and an RSS feed. In fact, a global survey of internal and corporate communications professionals found that more than half use blogs, online video and RSS, or plan to do so in the next 12 months. The Melcrum study of communications at large firms also found more than 40% are using podcasts and social networks, or say they are planning to do so."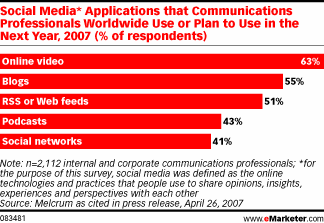 Read the entire article on eMarketer.com.