Link to main Search Engine Optimization (SEO) Web page
Are you a small business trying to figure out how to show up in local Google searches for your products or services? I bet you are because most of my blog readers are!
A great primer on how to accomplish this was recently published on Moz by guest writer Darren Shaw from Whitespark.
Local Search Ranking Factors 2018: Local Today, Key Takeaways, and the Future
Here's Darren's whiteboard overview: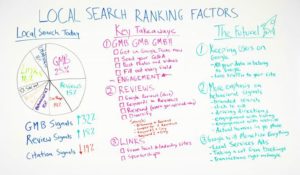 Yikes! Let's get more to the point with the section titled "Local Search Today":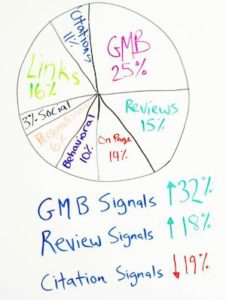 Now we're talking! So what is "GMB"? Google My Business. Here's what Darren has to say about GMB:
"The big story this year is Google My Business. Google My Business factors are way up, compared to last year, a 32% increase in Google My Business signals."
And in the article "Key Takeaways" section:
"The real story this year was Google My Business, Google My Business, Google My Business. Everyone in the comments was talking about the benefits they're seeing from investing in a lot of these new features that Google has been adding.
Google has been adding a ton of new features lately — services, descriptions, Google Posts, Google Q&A. There's a ton of stuff going on in Google My Business now that allows you to populate Google My Business with a ton of extra data. So this was a big one."
Now comes the hard part! You (or your Digital marketing Consultant) need to dig into Google's overview of Google My Business and get that set up for your business ASAP!
Link to Google My Business