Lisa Phillips
Senior Analyst
eMarketer
Dave's Comments (Digital Marketing Tutorial Blog): The "digital" slice of the pharma marketing pie just keeps getting bigger each year, as this article highlights with some very interesting details about where the digital marketing dollars are being spent.
"The endless text of pharma disclaimers is at home on the Web.
Web sites are getting pharmaceutical marketers' interactive budgets this year, according to a new study by the Medical Broadcasting Company (MBC) and CBI Research.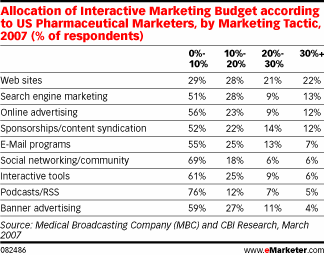 A plurality of pharma marketers said site spending would be most likely to get their budgets this year."
Read the entire article on eMarketer.com.