From: eMarketer
It's experiment time for B2B online.
Dave Comments (Digital Marketing Tutorial Blog): So what's REALLY going on with Web 2.0 and US B2B (and B2C) marketers? What online marketing techniques are they trying, and which ones appear to be working the best? Read this eMarketer article on the subject to get in sync with your peers.
"Business-to-business (B2B) marketers are still focusing their digital efforts on company Web sites and search engine marketing. But some are finding success using newer channels—particularly online social media—according to several reports released in the latter half of 2007.
B2B marketers indicated more success with media such as podcasts and RSS feeds than did B2C marketers, according to the "Harnessing the Power of New Media Platforms" report, sponsored by the Association of National Advertisers and BtoB magazine, and conducted by Guideline."
Chart: Effective New Media Platforms Used by US B2B and B2C Marketers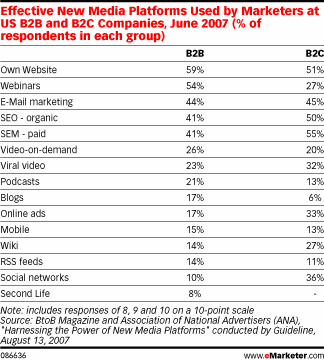 Read the entire article on eMarketer.com.