Link to main Search Engine Optimization (SEO) Web page
It's here! The updated Periodic Table of SEO (Success) Factors is now available.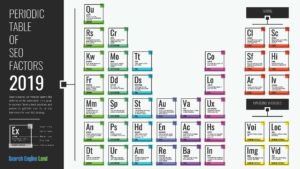 Original Periodic Table of SEO Ranking Factors
The original Periodic Table of SEO Ranking Factors was released in 2011. As soon as I saw it, a science nerd like me was in love!
Here's a photo of the original 2011 Periodic Table of SEO Ranking Factors: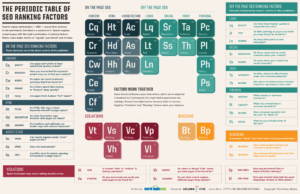 I love this type of visual information presentation. I find this first summary of SEO success factors revolutionary.
And for those folks who cringe every time they hear the phrase "Periodic Table of Elements", here's the real thing in all its glory!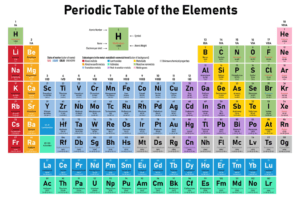 Quick – where are the Rare Earth Elements? (Just kidding!)
What makes these infographics of all of the known chemical elements AND of all of the key SEO elements so effective and appealing? I think it makes SEO, a topic most small/medium business owners find thoroughly confusing, understandable and relatively easy to follow.
Details – SEO Periodic Table
First, this chart gathers together those "elements" that have similar properties into vertical columns.  Next each column is rank ordered from top to bottom by another key fact about those "elements".
I'm going to let the table's authors explain the chart's details:
"The main table consists of six positive groups – Content, Architecture, HTML, Trust, Links and User – and you'll find two sub-groups on the right side of the table. The Toxins represent practices that can harm your SEO, even getting you penalized by the search engines. They're therefore weighted with negative numbers. Below that, the Emerging Verticals group illustrates some of the factors that are growing in importance. We'll explore each of these groups in more detail below.
The table's elements are organized into groups of similar factors, and each individual element is weighted based upon its overall importance to SEO. Those weightings, from +1 to +3 on the positive side and -1 to -3 on the negative side, are shown in the top right-hand corner of the element's symbol, and the elements are organized with the most important – highest weighted – items at the top of each group.
An element with a weight of +1, for example, wouldn't have as much of an impact as one weighted at +3. When you see negative numbers – which are associated with the Toxins – a -3 weighting indicates the practice can do maximum damage to your strategy, while a -1 could be harmful but isn't generally as dangerous as a -2 or -3."
Pretty straight forward right?
How to Use The SEO Periodic Table
Here's how this SEO infographic can help a small business owner who just can't understand SEO. He/she should use this chart as an overview into the world of SEO.
And here's how the SEO Periodic Table authors hope it's used:
"We hope the Periodic Table of SEO serves you well as the first visual aid you turn to when trying to plot out an SEO strategy for the properties you own or manage. But, as a reminder, let's agree that what's emerging today will be foundational tomorrow. That's the case in science and tech and it's just as true in search marketing."
Here's a link to the New Periodic Table of SEO (Success) Factors:
New Periodic Table of SEO Factors
And please review my detailed instructions in my Digital Marketing Tutorial. It provides a road map of how to perform SEO on a new or existing Web site: